Growing up, Labor Day was always the official "end" of summer…we started school right after, and it was back to reality. In my town, school started last week for kids, so I am feeling kind of off…its August, its summer, but there is SCHOOL? Crazy!!  I have been getting all sorts of sentimental and teary seeing the pictures of all the munchkins with their backpacks on, hopeful smiles with some slight nervousness in their eyes. I can't believe my little guy will be there soon.  The official start of school at my son's school was last Monday, and because we decided to hold him back a year, it was a bit of a strange day (You can read more about this decision on my RedShirting Post). We had a lot of discussions about why he was going to be in the class, that he would see his friends in his class, and the first day went well. I know it helped that five other boys in his class also stayed back (an unexpected surprise for me and for him!)…but I didn't make it an overly special day. I just thought it would be too confusing.
Either way, I still have the back to school fever and have loved celebrating the monumental occasion with others. Today, I am sharing my favorite back to school themed items…
From around the blogosphere:
Momastery: The Talk (As always, Glennon writes a "must read"!)
Makaboo.com: Tips for Becoming a Kindergarten Mom
Sarah's Cucina Bella: Back to School Awesome Snacks 
In case you missed the MMB posts from Back to School week, here they are:
The Real Mom Chronicles: Teacher Mom of 2
Mommy Brain: Back to School Version
Top 5 Ways to Partner with your Child's Teacher
And lastly, some of my favorite school supply finds:
LunchBots stainless steel food containers which help avoid squished sandwiches. We have used these for a couple of years, and I can't see us stopping! I have 6 containers in our rotation
Snack Bags from Kikibonan…I am in LOVE with these bags. They hold up great, and are perfect for snack time. Even if you don't have a school age child, you ned these for the diaper bag
The etsy site has TONS of more options for bags as well. I just have to say – the mom who sells these is from my town, and put these on our town mom's FB page – they are absolutely selling like crazy and the feedback is AWESOME. Can't recommend these enough!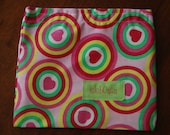 What are you loving about back to school? Any great reads, products??